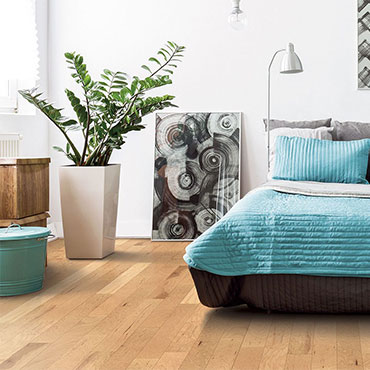 Your flooring is usually the first thing people notice when they enter your home. It's the gateway to every room and can be subjected to the roughest, most consistent wear and tear. Luckily, PERGO laminate floors are manufactured to withstand dirt, dust and daily abuse. When it is time to show your floor some maintenance TLC, there's no reason to stress! These 5 professional tips from PERGO will help make sure your floors look as great as the day they were installed and stay beautiful for years to come.
Professional Laminate Care Tips
Don't let dust cloud your experience
Over time, dust accumulates in the microscopic spaces of laminate and can accelerate deterioration. A few simple ways to prevent this from happening include using a vacuum or dust mop. Never pour any liquid or use a steam mop on your floor. However, if you've purchased a water-resistant product such as PERGO Outlast+, an occasional wet mopping will do the trick.
Attack dirt before it gets a foothold

Nothing makes your floor look older and less beautiful than dirt. The best way to keep dirt from tarnishing your floor's shine is to prevent it from building up in the first place. Something as basic as placing an area rug or mat at your room's entrance, or high traffic areas, will do wonders to knock off dirt before it can do damage. Plus, the right rug can really help tie the room together. When you absolutely need to clean your floors, prolong their beauty by steering clear of abrasive cleaners.
The easiest solution is often the perfect one
The compounds found in typical cleaning fluids can do harm or strip your floor of its luster over time. You can make a PERGO-recommended household cleaner with 1 cup household vinegar to 1 gallon warm water. Or alternatively, mix 1/3 cup ammonia mixed with 1 gallon warm water. Tougher stains can be attacked as needed with acetone nail polish remover or denatured alcohol on a clean cloth.
Apply the proper padding
Although one of the many benefits of laminate is its scratch-resistance, a little extra protection against nicks and scratches can be important to help withstand some of the most repetitive abuse from a commonly moved object such as a kitchen chair. Over time, that back and forth motion can scratch your floors and lessen their like-new look. Simply adding some felt floor protectors from a home improvement store to your furniture will help protect your new floor.
Wax off, never wax on
Unlike wood flooring, laminate stays brighter and newer-looking longer, without having to constantly wax or polish. In fact, you should never wax or polish a laminate floor. It's not necessary, so save your time and money. Your new PERGO floors will maintain their look and feel perfectly fine without any treatments.
Easy, right? Of course, there are many more things you can do or avoid doing to keep your floors looking and feeling fresh, but if you use these 5 tips as a starting point.
NOTE:
FLOORSbay Inc does not carry every style of product. Check with us first about a particular product or to see if your product choice is available for special order.