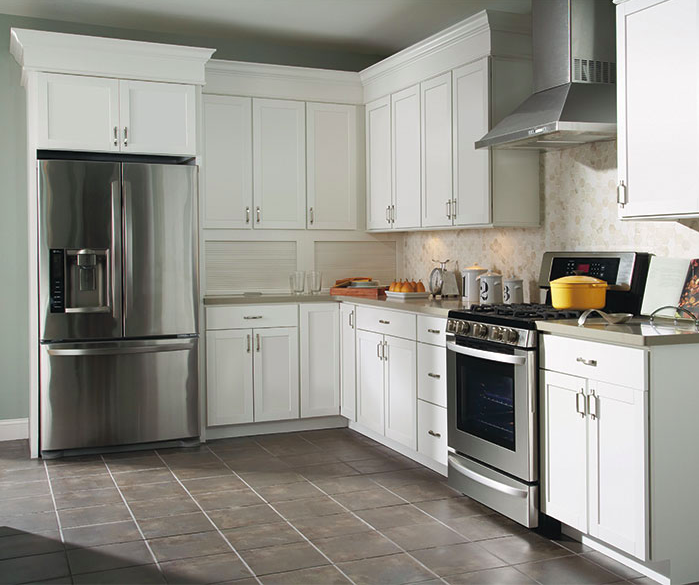 Kitchen floors have taken many forms over the years to address the challenges of the space, including a high frequency of spills and wear due to high traffic. One of the more typical flooring types perfectly suited for modern kitchens is laminate. PERGO laminate, specifically, is durable, easy to install and available in styles to fit just about any need. But with an abundance of options out there, how should you go about selecting the laminate flooring that's right for the needs of your kitchen?
What is Your Style?
First, consider your style. Depending on the layout and vibe of your kitchen, certain laminate options may suit you better than others. Consider every element before deciding what enhances your space. You'll want to think about how different colors interplay with your walls and appliances. Something as subtle as texture can have an effect on the feeling you get when you enter the room. So, there are plenty of aspects to think about when it comes to style.
Can it Withstand Your Lifestyle?

Second, a major factor in choosing the right laminate floor for your kitchen is durability.
Between cooking meals, doing dishes, eating and drinking, and just simply living, you're going to put a pretty good bit of wear and tear on your floor. Spills, and more specifically moisture, are a kitchen floor's worst enemy. Not all laminates are created equal when it comes to water resistance. Only a floor like PERGO Outlast+ is proven to hold up to spills for up to 24 hours. Which is beneficial, because you can't always be there to clean it up immediately.
What is Your Budget?

Finally, decide how much bang you want to get for your buck. You might want new cabinetry to match your new floor, but complete kitchen renovations take significant amounts of time and the help of a professional contractor. PERGO floors, however, can be easily installed as a DIY project in as little as a weekend. Even if you don't have the resources at the moment to remake your entire kitchen, a laminate floor installation could be the least expensive and most transformative renovation you could ever do. If you're already happy with the existing floorplan of your kitchen, the floor is often the best place to start.
NOTE: FLOORSbay Inc does not carry every style of product. Check with us first about a particular product or to see if your product choice is available for special order.